Film Night: Samuel Fuller's Park Row (1952)
Tuesday, August 2, 2016
5:30 P.M.
GSEIS Room 111, 1st Floor
Beverages, popcorn, & snacks
(Sponsored by APHA So. CA Chapter)
Lecture: Daniel J. Slive, Head of Special Collections, Bridwell Library, Southern Methodist University
Wednesday, August 3, 2016
5:30 P.M.
Conference Room, UCLA YRL, Los Angeles
Talk followed by a reception, Salon, GSEIS Bldg., 2nd Floor
(Sponsored by So. CA Chapter ABAA)
Topic:  A Spy in the House of Bibliography: A Career in Rare Books and Special Collections
Lecture: Dr. Frances Smith Foster, Charles Howard Candler Professor Emerita of English and Women's Studies, Emory University
Wednesday, August 10, 2016
5:30 P.M.
Room 111, GSEIS Bldg., UCLA, Los Angeles
Talk followed by a reception, Salon, GSEIS Bldg., 2nd Floor
(Sponsored by So. CA Chapter ABAA)
Topic: African American print culture, especially scrapbooks and other ephemera
Film Night: Samuel Fuller's Park Row (1952)
Thursday, August 11, 2016
5:30 P.M.
GSEIS Room 111, 1st Floor
Beverages, popcorn, & snacks
(Sponsored by APHA So. CA Chapter)
Lecture: Paul Shaw, design historian, type designer, calligrapher, and graphic designer, Parsons School of Design and the School of Visual Arts
Monday, August 15, 2016
5:00 P.M. – 7:00 P.M.
The Book Club of California, 312 Sutter Street, San Francisco
Reception and talk
Topic: W. A. Dwiggins – 20th century graphic designer
Victorian Bibliophilia: How the Parker Society Invented the Reformation. Monday, November 2, 2015, 5-7 p.m.
Presented by the California Rare Book School at The Book Club of California.5 pm: Hospitality
6 pm: TalkDr. Lori Anne Ferrell discusses the Parker Society: a nineteenth century subscription association organized to publish "accurate" editions of Tudor reformation texts (sixty volumes in all, still found, in crumbling splendor, on every research and clerical library shelf in America and Britain). This is no genteel and pious tale, but a gripping narrative of Victorian religious politics, mad runs on London book auctions, and cut-throat collecting, peopled by bibliophiles determined to not only corner the market in sixteenth century memorabilia but also to rewrite history.
Is It Valuable or Valueless?
A free workshop on the issues and complexities of rare book and manuscript evaluation sponsored by California Rare Book School 
Friday, October 2, 2015
UCLA GSEIS Building, Room 111
Expert Panels:
Views of Auction Houses, Libraries, Museums, and Collectors
10 a.m. to 4 p.m.
Reception to follow
RSVP: (Enable Javascript to see the email address) 
Saturday, October 3, 2015
Pasadena Center
BUSTAMANTE ENTERPRISES INC., October Book Fair
Panel: Views of Booksellers
11 a.m. to 12:30 p.m.
View full event schedules here.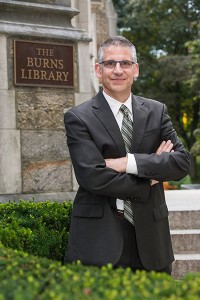 Monday, November 3, 2014, 5-7 p.m. 
Take Things Always by Their Smooth Handle and Give Them a Good Turn: Reflections on Life and Libraries with Christian Dupont
5pm Reception, 6pm Lecture
Location: The Book Club of California
In 2006, Rare Book School director Terry Belanger invited Christian Dupont to give a talk about his experiences and "advices" as the newly appointed director of special collections at the University of Virginia. He naturally turned to Thomas Jefferson, and drew upon his "Decalogue of Canons," a series of ten aphoristic expressions of practical wisdom—some more common, some more obscure—like "take things always by their smooth handle." Applying this maxim to his own career soon led Christian to join a library software development company to create the first automated system for managing special collections library services. And now it has led him back. In his talk, Christian will reflect on what he has learned about life and libraries and whether Mr. Jefferson would approve.
Following a six-year stint with Atlas Systems, the leading provider of time-saving solutions for libraries, Christian Dupont was recently appointed as Burns Librarian at Boston College. Formerly director of special collections at the University of Virginia and Syracuse University, he embarked on his service to libraries while completing his doctorate in theology at the University of Notre Dame. His research and publication interests range widely from Dante to continental philosophy and the history and management of libraries.
Wednesday, August 6, 2014, 5:15 pm-7 p.m.
Speaker: Kathleen Walkup
Title: An(other) Unsuitable Job for a Woman: Printing in the Long Nineteenth Century
Location: UCLA, Young Research Library
Reception to follow
Thursday, August 14, 2014, 5:15 pm-7 p.m.
Speaker: Terry Belanger
Title: Another Turn of the Screw
Location: UCLA, GSEIS Building, 2nd Floor, Grand Salon
Reception to follow
Sunday, November 3, 2013  
Welcome Reception
California Historical Society
Monday, November 4, 2013, 5-7 p.m.  
Speaker:  Bruce McKinney, founder of Americana Exchange and the online magazine for book collectors, AE Monthly. He is also the founder of AE Database, a database of more than 5,000,000 auction records.
Title: TBA
Location: The Book Club of California
Reception to follow
Upcoming Events at the William Andrews Clark Library
3rd ANNUAL CLARK LIBRARY OPEN HOUSE Exhibition and Lecture
NINTH KENNETH KARMIOLE Lecture on the History of the Book Trade
October 29, 2013, 4:00pm
Isobel Grundy (University of Alberta)
Eighteenth-Century Publishers and Women Writers: Antagonism and Alliances
CLARK QUARTERLY
November 13, 2013, 4:00pm
Anne-Lise Desmas , Acting Head and Associate Curator, Sculpture and Decorative Arts Department, J. Paul Getty Museum
"Sculptor Paul Troubetzkoy and William A. Clark, Jr.'s cultural elite in the late-1910s Los Angeles"
CLARK QUARTERLY
January 16, 2014, 4:00pm
Joseph Bristow , Professor, Department of English, University of California, Los Angeles
"Oscar Wilde and Thomas Chatterton: 'The Father of the Romantic Movement in Literature.'"
CLARK QUARTERLY
March 4, 2014, 4:00pm
Russell Maret , Artist, Printer, Type designer, Bookmaker, New York City
"Comprehending a Cube: Eighteen Months of Living with Euclid"
Previous Events
Friday, August 16, 2013 at 4 p.m.
Farewell "Tea"
GSEIS Bldg. Salon
Wednesday, August 14, 2013 at 5 p.m.
Speaker: Mr. William P. Barlow, Jr., Private Collector and CPA
Title: "Adventures in Book Collecting"
GSEIS Bldg. Room 111
Reception to honor ABAA Southern California Chapter members to follow in the GSEIS Bldg. Salon, 2nd Floor
Tuesday, August 13, 2013 at 5:30 p.m.
APHA So. CA Chapter Movie Night at CalRBS
"Making Faces," a documentary about Jim Rimmer (1931-2010)
GSEIS Bldg. Room 111
Friday, August 9, 2013 4 p.m.  
Farewell "Tea"
GSEIS Bldg. Salon
Thursday, August 8, 2013 at 5 p.m.
Panel Discussion: Dr. Carla Bittel, Associate Professor of History, Loyola Marymount University, and Mr. Russell Johnson, Curator, Bio-Med Special Collections UCLA
Title: "Acquisitiveness, Comparison, and Causality: A Scholar and a Curator Examine Phrenology Collections"
Bio-Med Library
Reception to follow in Bio-Med Special Collections
Wednesday, August 7, 2013 at 5 p.m.  
Speaker:  Mr. Brian Schottlaender, University Librarian, University of California San Diego
Title: "Of Mothers and Invention"
GSEIS Bldg. Room 111
Reception to follow in the GSEIS Bldg. Salon, 2nd Floor
Tuesday, August 6, 2013 at 5:30 p.m.
APHA So. CA Chapter Movie Night at CalRBS
"Making Faces," a documentary about Jim Rimmer (1931-2010)
GSEIS Bldg. Room 111
Monday November 5th, 2012, 5:00-7:00 pm – Lecture given by Susan Allen titled "Unlocking the Magic of Rare Collections" at the Book Club of California, San Francisco
Wednesday August 1st, 2012 at 5pm.  "Where Do We Go From Here: A Rare Book Library in the Digital Age" A lecture by E.C. Schroeder, Director of the Beinecke Library at Yale University
Wednesday August 8th, 2012 at 5pm.  "Let's Talk: A Conversation Between a Rare Book Curator and a Book Dealer" With bookseller Kenneth Karmiole and rare book Curator David Brafman
Click here to download Flyer for 2012 Lectures
Wednesday August 3rd, 2011 at 5pm, Due to the unfortunate postponement of the visit of David Ferriero, the Archivist of the United States, the  Wednesday lecture will be given by Susan M. Allen, Director, CalRBS. Her lecture is titled: "John I. Perkins Collects: The Kelmscott Press for Los Angeles."
Wednesday August 10th, 2011 at 5pm, California Rare Book School will be hosting a panel discussion titled "Collecting the Physical Book in the Digital Age," moderated by CalRBS Director Susan M. Allen and featuring among the panelists, UCLA University Librarian, Gary Strong, antiquarian book dealer Ken Karmiole of Kenneth Karmiole, Bookseller, Inc. and antiquarian book collector David Rips.
Receptions co-sponsored by the Southern California Chapter of the Antiquarian Booksellers' Association of America and CalRBS will follow both events.
Date
Lecturer
Event
Location
Room
8/10/2010
Kenneth Karmiole, Howard Rootenberg, and Michael Thompson, moderated by Carol Sandberg
Stories from the Annals of the Southern California Book Trade
UCLA
GSE&IS "Salon"
8/3/2010
Johanna Drucker, Martin and Bernard Breslauer Professor, Department of Information Studies, UCLA
Text Visualization: What Info Can Learn from Biblio
UCLA
GSE&IS 111
8/10/2009
Mark Dimunation, Chief of the Rare Book and Special Collections Division, Library of Congress
Building on Mr Jefferson
UCLA
GSE&IS 111
8/3/2009
Kenneth Karmiole, Howard Rootenberg, and Michael Thompson, moderated by Carol Sandberg
Stories from the Annals of the Southern California Book Trade
UCLA
GSE&IS "Salon"
8/13/2008
Kenneth Karmiole, Howard Rootenberg, and Michael Thompson, moderated by Carol Sandberg
Stories from the Annals of the Southern California Book Trade
UCLA
GSE&IS "Salon"
8/6/2008
David Stam, Senior Scholar in History, Syracuse University
Luck is the Residue of Design, or Vice-Versa, or Not
UCLA