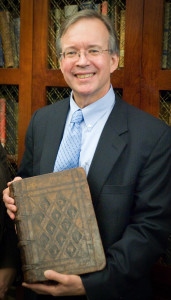 Gary F. Kurutz has served as Director of the Special Collections Branch of the California State Library in Sacramento since 1980. He now works as a retired annuitant. Previously, he held positions as Head Librarian, Sutro Library; Library Director, California Historical Society; and Bibliographer of Western Americana at The Huntington Library.
Kurutz has written extensively on the California and Western subjects including The California Gold Rush: A Descriptive Bibliography of Books and Pamphlets Covering the Years 1848-1853, California Calls You: The Art of Promoting the Golden State (with KD Kurutz); Knights of the Lash: The Stagecoach Stories of Major Benjamin C. Truman; The Architectural Terra Cotta of Gladding McBean; California Books Illustrated with Original Photographs, Recollections of the War with Mexico (editor); and several dozen articles, introductions, and forewords.  In addition, Kurutz has authored several keepsakes for bibliophilic organizations.
Kurutz also serves as Executive Director of the California State Library Foundation. He is chair of the Collections Committee of the California Historical Society, honorary member of the Society of California Pioneers, and is a past president of the Book Club of California and Sacramento Book Collectors Club. He is an active member of several bibliophilic organizations. Kurutz has received research grants from the Bibliographical Society of America and the Huntington Library.
A native of La Cañada, California, Kurutz received an M.A. in history from the University of San Diego and a master's degree in Library Science from the University of Southern California.
Courses Taught